Mercedes is in decline because of focus for the 2020 season
Leader Toto Wolff said that Mercedes only won one of the last four races because of the lack of improvement on the W10.
"We haven't improved the W10 for a long time," Motorsport quoted Mr. Wolff as saying. "Perhaps we are not doing as well as the other teams. Mercedes has to keep up the form, have to prepare for next year. We study this problem carefully. Mercedes will improve a bit at the Japanese Grand Prix. , but not as significant as it was before the end of stage one ".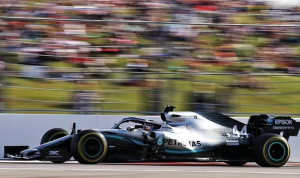 After the one-season period, with 12 stages, Mercedes outstrips rivals in both individual and collective titles. After the summer vacation, Ferrari won three trips at the Spa (Belgium), Monza (Italy) and Marina Bay (Singapore). Mercedes' double victory in Sochi (Russia) came in time for them to consolidate their positions. Although the rules for the 2020 season car have not changed much, Mercedes also wants to spend time researching when the 2019 championship is within reach.
"The F1 championship is based on the ability to win points throughout the season. Ferrari has not started well and has fallen behind, but they have made rapid progress in the last four races. Championship early, to fully focus on the next season. But we don't do that because we have to be careful in every situation, "Wolff added.
After 16 stages, Mercedes leads with 571 points, 162 points more than Ferrari. Lewis Hamilton also monopolized individual scoreboard with 322 points. Teammate Valtteri Bottas came in second with 249 points, 34 points more than Charles Leclerc (Ferrari).
Mercedes revealed the secret to taking down Ferrari in Sochi
Mercedes strategy director James Vowles analyzed the double win at the Russian Grand Prix over the weekend.
– Why does Mercedes come with ordinary tires?
– In the top 10, only Mercedes comes from ordinary tires after considering the two options. If we choose soft tires and still stand behind Ferrari after starting, we will be hard to beat them. At that time, our only chance was the undercut strategy (into the front pit). But I think Ferrari is too fast for us to use this tactic.
The season only has five stages in Suzuka (Japan), Hermanos Rodriguez (Mexico), Austin (USA), Interlagos (Brazil) and Abu Dhabi (UAE).