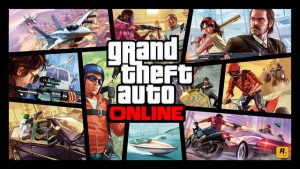 GTA Online is an exciting playing mode in the popular action game, Grand Theft Auto V. Players get to design their own character and then race against others. There is a wide range of different race types. Players can compete in land, air and water vehicles, as well as bikes and target assault machines. Some of the maps require racers to complete stunts to win.
Virtual money plays a significant role in GTA. This can be accumulated by completing other races. There is an extensive catalogue of cars which are available to buy and customise. Purchasing a higher end vehicle will give players an edge when it comes to competing in virtual races.
There is a content creation mode where users customise races. They have complete control over laps, checkpoints and many other details. Exploding items, ramps and barriers can be added as props. These custom games can then be shared online and played by others in the GTA community. If it is given a high rating, then the race could potentially become very popular.
GTA Races
GTA Races are one of the more exciting contests to participate in. They follow the same standard rules as a regular race. The main difference is that players can collect weapons and power-ups. This can lead to explosive fights and much more dangerous encounters than in a regular race.
Players can also leave their first vehicle and steal another. This is useful for situations where a car has become too damaged to use. However, there are also health power-ups which will repair a car instantly.
The most deadly power-ups are rockets. These are fitted to the car and can be fired at other players. GTA Races are often played by more people than the other modes, due to the increased excitement and violence.