For centuries, human beings have raced each other on horseback. Several horse types have been bred over time for their racing speed. Horse riders in the sport are known as jockeys, and they are usually short in stature, as this puts less strain on the horse.
Horse Race Betting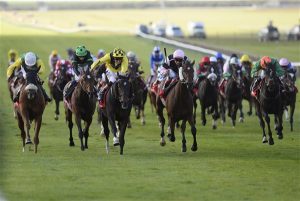 Many people enjoy betting on horse races. Each horse has designated odds, and the potential payout will depend on this. For instance, if a horse has 15/1 odds and someone places a £1 bet that it will come in first place, then they could end up winning £15. However, there is also the option of each way bets, where money can be won if the horse places in a lesser position. The further away this position is from first, the lower the payout will be. In other words, more money is won if the horse comes second than in fifth.
The Grand National
The Grand National is the most momentous event in the UK horse racing calendar. It is held every year at Aintree and attracts a significant amount of media attention. The event has been held since 1839 and covers a 4-mile track featuring 30 fences. The winner is awarded a grand prize which in the past has totalled £1 million.
Despite being a part of British culture, the Grand National has attained a level of controversy in recent years. Animal rights activists have condemned the dangerous conditions. The fences of Aintree are so hazardous that it is not uncommon for horses to receive fatal injuries due to falls. This danger further extends to jockeys, as accidents tend to fling them into the air. However, equestrian fatalities are much more likely than human ones during these races. There have been calls for Aintree to update their track to make it less dangerous.