The best Racing Games to play (part 1)
Looking for a way to get your adrenaline pumped without totaling your parent's car? These high-speed racing and stunt games are precisely what you're looking for. 
Are you bored of sitting around in traffic on your way to work or school? Do you fantasize about slamming down the accelerator and drifting around corners at full-throttle? If so, then you're not alone. 
Car racing has been popular ever since petrol was first used to power motorized chariots, and even before that, horse racing was all the rage. The first 'proper' car race was held between Paris and Bordeaux in 1895, and since then, putting the pedal to the metal has been a frequent daydream of many motor-heads.
Let's take a look at some of the top games for the four (and two) wheels category. 
Best racing and stunt games to play now
Death Chase: This one is all-out motorized chaos. Choose your car from a selection of beat-up Volkswagens, police cars and trucks, and take to the backcountry to blitz through fields, bars, and all kinds of crazy jumps and secure first place. 
Get in front of the rest to send obstacles crashing back into your opponents and attach miniguns to the front of your car to rain bullets into anyone foolish enough to try and overtake you. You can customize your vehicle in all sorts of ways to make it the ultimate derby death machine. 
This game is pure flash craziness – the map changes so fast, throwing so much destruction in your wake that it's almost hard to keep up. Recommended to those that like action-packed free-for-alls.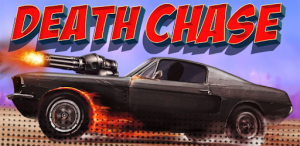 Speed Racing Pro 2: This game is all racing. Pick your supercar, choose a track and the number of opponents, and burn some rubber! With realistic car physics and plenty of opportunities for drifts, Speed Racing Pro 2 is the perfect flash game for satisfying your racing fantasies.